By Amelia Night

|
September 27, 2018
Do You Think It's Time To Get Grunge Out Of Chains? We Do Too.
Grunge, like Nirvana, erupted in the 90s and infiltrated the souls of all edgy kids of the time. Icons like Iggy Pop, the Ramones and Sonic Youth contributed to the music and clothing style of grunge as we know it. Grunge equals teen angst. Non-conformism is at the heart and the style MUST reflect this. The ideology formed a basis for the style which saw faded jeans and flannel shirts become so popular as pieces of grunge attire. 1990s men's fashion peaked within the grunge age and that's why we couldn't be happier that it is making a comeback. Celebrate with us with our top fashion picks for men who love grunge along with some outfit ideas! Below we have created a list made up of of the ESSENTIALS you will need to get that male grunge aesthetic.
1. Faded Jeans
Grunge is all about recycled clothes. Thrift shopping was the norm. That's how the faded/distressed jeans look became one of our grunge favorites. The scruffy patches will set you apart while adding a shabby-chic component to your look.
90's grunge outfit idea: pair these jeans with some heavy duty boots and over-sized shirt and you grunge guys can't lose - trust me.
2. Slogan Printed T-Shirts
It can be hard to find grunge clothes for men, but it's probably easier than you think! Snappy and sarcastic, this versatile top is a staple piece of guy clothing. Rebel against the status quo and quite literally show off your nonchalant attitude to society - you're grunge brothers will get it and love it, too.
3. Patch Jacket
Denim is most definitely the way to go when it comes to deciding what to wear on those breezy summer nights. The one shown above is already pre-designed but this doesn't stop you from personalizing your denim jacket to your hearts content.

4. A Leather Jacket
Grunge guys would pull off a jacket like this perfectly on those colder nights! It's cool and timeless - what more could you want? Not only will you achieve the perfect 90s look, you'll be reminiscent of any drummer in any awesome 'drudgy' band. Nothing will bring guys and girls knocking at your door than that.

5. Beanies
Grunge fashion embodies a laid back attitude, meaning that it's designed to look effortless and cool. Beanies are exactly that. These unisex beanies are slouchy and cotton (we all know Kurt loved a knitted sweater) and make a great addition for any occasion.

6. Accessorize!
Bracelets
These cool bracelets are genuine leather and come in black and brown. We love them due to their ability to be paired with anything. Shabby-chic to the core, adding an awesome D.I.Y feel to your outfit.
Belts
If statement clothing pieces are not your style do not worry. There are so many ways that you can get your grunge soul to shine. Belt buckles are brilliant at drawing attention to your awesome look without being too showy. They look badass and keep your trousers from swinging at your hips. It's a win-win!
90s Mens Grunge Fashion Outfit Ideas
Combining the elements above in one way or another, you're bound to solidify your grunge style with the ability to switch it up whenever you like. Here at The Black Ravens we have devised a collection of our favorite outfit ideas for men to give you some inspiration when getting the grunge look.
The Street Look
When walking down the road, it would have been so common to see guys geared up in leather jackets, black leather boots and faded/washed out jeans. This smart but casual look throws away that need and want for decorum and makes way for a more chilled out way of dressing.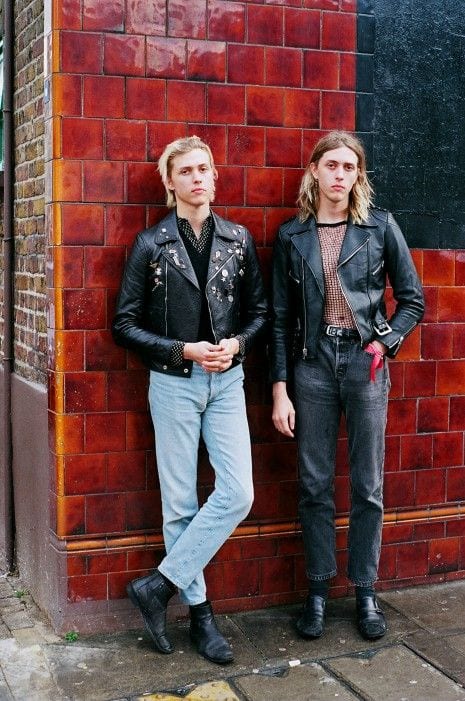 The Casual Combo
We have named this one the casual combo on account of the graphic tee matched with an unbuttoned flannel shirt. Celebs has been going crazy for this look this year and keeping with the 90s trends that are seeping into popular culture. Keeping it chill, Mr. Efron can be seen wearing a brown belt and boots and rounded sunglasses to top it off. The ladies love him, and it's not hard to see why.
Grunge Summer Style
Freshen up your look with a white tee, and rolled up jeans. Add some leather strap bracelets and silver rings to take it to the next level. Who says that grunge is only for nirvana shirts and red checkers. This grunge outfit idea for men will give you that well sought after Earthen and well traveled vibe. Follow the hippie grunge path and get the Jesus look!
We know that it can almost feel impossible at times to find good clothing guides, especially for men. It is for this precise reason that The Black Ravens has created this essential guide to going grunge, tailored for men. We have aimed to include as the must buy key items as well as some grunge outfit ideas to help your look go from 5 to 500.
If you think we've missed anything, hit us up! If you'd like to read more or found this blog post useful, also hit us up - we'd love to hear from you!