By Constantinos Santis

|
August 22, 2018
Punk culture has been around for nearly 50 years now, and is known for being crazy, loud and unconventional in every way. For the guys, male punk hairstyles have been at the center of everything. The classic punk style included the Mohawk, spikes and experiments with color. Punk hairstyles are not limited to this though.Here are our 20 favorite punk hairstyles for guys.
1. Liberty Spikes
Let's start with one of the signature punk hairstyles; liberty spikes. This style stands out through long and thick spikes reaching as far out as possible. The spikes can either be black or multicolored. You'll even match your spike cuffs too.
2. Liberty Spikes Mohawks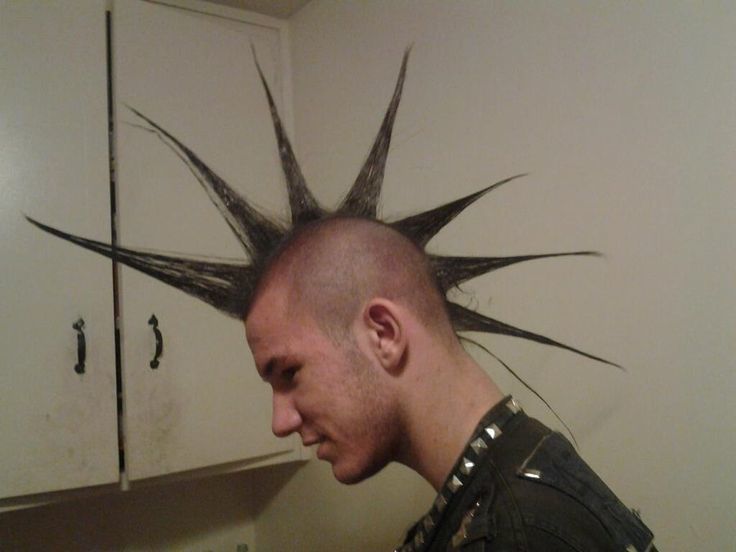 Here are liberty spikes in action again, only this time they are in mohawk form. Not many male hairstyles scream out punk like this style. It makes sense if you have a liberty spike hairstyle already so change things up and go for it.
3. Fanned Mohawk
Another absolute classic of the punk rock culture. The fanned mohawk has been used by guys since the birth of punk. Shave off the sides and grow out the spikes for the most effective style.
4. Faux Hawks
These are becoming increasingly popular in the punk-rock community. The faux hawk is a mohawk but just nowhere near as long. For those of you with short hair, this is an easy one to try.
5. Relaxed Mohawks
Sometimes you might not be in the mood to put up a full mohawk. This is where the relaxed style comes in and looks just as good down as it does up. Give it a try and you may end up doing it more often than not.
6. Death Hawks
So, by now we are all on the same page in terms of the different mohawks available to you. However, there is also the death hawk. Death rockers will want this look. The style requires even longer and intrusive spikes, like the picture above.
7. Spiky Punk Hairstyles
This could easily be known as the Sid Vicious hairstyle. He had great punk fashion sense and the spirit of the Sex Pistols legend lives on to this day through his iconic hair. Being inspired by one of the greatest punk icons of all time is nothing to be ashamed of.
8. Long Top and Shaved Sides
This is like a mohawk, but the top isn't so extreme. Wearing this style saves time playing around with the spikes that comes with the mohawk but still gives you a sense of classic punk. There are plenty of styles to choose from.
9. Undercut Punk Hairstyles
Some punks don't want to rock a spiked hairstyle but still want to get those punk vibes flowing. If this is you, try an undercut. Like a mohawk, you'll need to shave the back and sides, but the style will be a welcome break from the spikes if that's what you're looking for.
10. Pompadours
With rock and roll as the foundation for the larger genre that punk is part of, it's natural that we would regard the pompadour. The sleek hairstyle is a direct representation of the aforementioned lifestyle, standing out through a carefully styled top.
11. Tribal Punk Hairstyles
This punk hairstyle is like a mohawk but instead of shaving the sides, they are made to look like tribal patterns. The hair on top is the pinned up to look like a mohawk. A good alternative style if you are feeling like taking a step into the world of mohawks.
12. 80s Colorful Punk Mohawk
It may have been born in the 70s, but modern punk fashion is based on the 80s. With this in mind, pay your respects to the great age and go for a bright colored style from the era.
13. Barbershop Punk Hair
For those of you with a fro, we have got you covered too. No doubt you find it tough to get a mohawk so adapt it slightly and go for a barbershop punk hairstyle. Shave the sides and twist the tops upwards and you're ready to embrace the punk life.
14. Emo Punk Hairstyles
Some people don't regard emo as punk but for the sake of argument, we are including it on this list anyway. That means you can keep your emo styled bangs swept as much as you like and still rock that punk look. Just remember to keep it over your eyes, not in them.
15. Curly Punk Hairstyles
You'll most often find punk hairstyles on guys with straight hair, but that doesn't mean you can't rock one regardless of your texture. For example, if you have natural curls, you can use them to your advantage and get a wider mohawk.
16. Dreadlock Hairstyles
For as far back as anyone can remember, hairstyles have always been a tool for expressing cultures, values, and personalities. That's why you can mix different elements today and get a truly unique hairstyle, such as dreadlocks with a mohawk.
17. Devilocks
The devilock is a hairstyle that has become a thing because of The Misfits. Jerry Only was brave enough to pull this off and to be honest, he did a damn good job. Slick back your sides and you're perfect.
18. Punk Bowl Cuts
Yet another modern hairstyle with a punk vibe is the messy bowl cut. If you decide on getting this hairstyle, we encourage you to put it side by side with an undercut. You can even pick different tones for the top and underneath.
19. Goth Punk Hairstyle
Take a step into the gothic scene with a hairstyle that represents the culture. If you have thick, straight hair, you will find it easy to adapt. Just bear in mind it may take a while to prepare (but if you have a mohawk, you'll probably save time.)
20. Punk Hairstyles For School
The last style on this list is for kids that want to be punk but still have to follow the rules at school or at home. Try a faux hawk so you don't get in too much trouble. If you can get away with it, you can shave the sides but don't risk if you aren't sure.